East Coast Parasailing
Leave it up to me to end up working on my vacation…if you can call this work! I was off wandering around the marina in the fog taking pictures of the fishing boats and was approached by Andy the owner of East Coast Parasailing. He was impressed with my camera and asked me to come out on one of the Parasailing boats to take some new pictures for their website, brochures, posters etc. Lets just say it didn't take much convincing if any at all to get me to agree to this!
The weather was a bit questionable for most of the week but finally Friday there was a beautiful bright blue sky which meant it was time for Parasailing. I had never been Parasailing before so I wasn't sure what to expect but it was so easy. They strap you in a harness and life vest before you go to the platform on the back of the boat, next you take a seat while they hook you to the harness and as they start to drive the boat you just float up off the platform. The next thing you know you are up in the air with an amazing view across the entire island and of some dolphins below if you are lucky. It's so quiet you can't even hear the boat engine running. Landing was just as easy! A quick dunk in the water if you want then back in the air for your landing on the platform.
Everyone who works there is great and makes sure you have a fun safe time! It is definitely worth checking out if you are looking for something fun to do while on vacation. For more information to book tickets please review the links at the bottom of this page.
Here are a few pictures…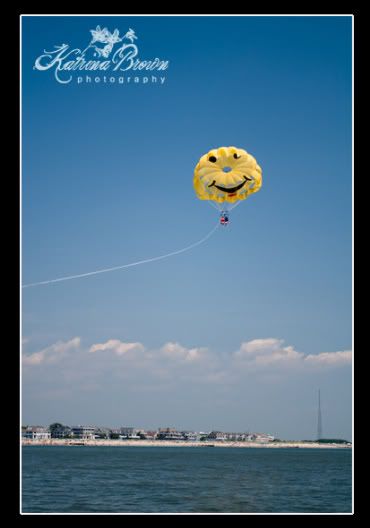 Even my dad went in the air..

The view down the beach from the air…YES I took the D300 up with me after some crazy looks from the other Parasailers!!